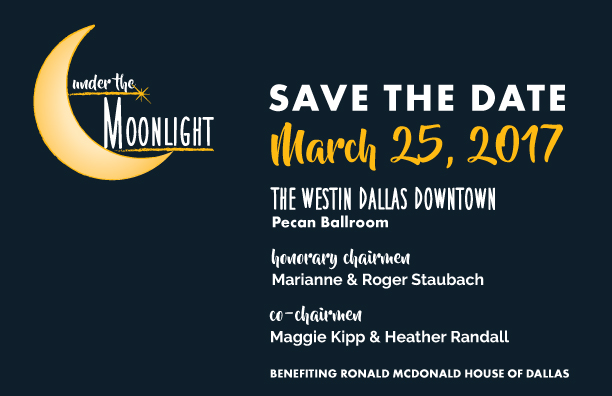 Mark your calendars for March 25, 2017 and plan on joining your RMHD friends at Under the Moonlight! 
Co-chairs Maggie Cooke Kipp and Heather Randall will 
be joined by Honorary 
Co-chairs Marianne and 
Roger Staubach. The event will take place under 
the moonlight and high atop the Westin Dallas
Downtown in the Pecan Ballroom. In addition to 
the spectacular nighttime view of our beautiful city, t
here will be cocktails, a fabulous dinner, live auction, entertainment by the Spazmatics
 and dancing. Sponsorships are available from 
$1,000 to $25,000 and tickets start at $250. Contact
Diane Fullingim at dfullingim@rmhdallas.org or 214- 
624-5365 for more information.
Interested in sponsorships or purchasing event tickets?
Thanks to our 2017 Sponsors
Blue Moon:
Marianne and Roger Staubach
Silver Moon:
James C. Carroll
Mike and Sally McWilliams
Maggie Kipp/Heather Randall
RMHC Charities of Greater North Texas
Southwest Airlines
Annell and Kelly Williams
Crescent Moon:
Sharon and Henri Bromberg
Children's Health
Mr. and Mrs. Bert Crouch
Natalie and Drew Dossett
Melinda and David Emmons
Cate and Jeremy Ford
Haynes and Boone
Cecilie and Ronnie Holman
M. Gale & Assoc.
Becky and Mike Palm
Katherine and Bob Penn
Ann and Doug Smellage
Texas Scottish Rite Hospital for Children
UTSouthwestern
New Moon:
Vera and Tony Bangs
April and Chad Cook
Dr. and Mrs. Henry Estess
Gail Fischer
JB Hayes
McDonald's Corporate
Stuart Hose and Pipe/Jill Harvey
Richard and Paige Reupke
Check out photos from our 2016 gala:
Check out photos from our 2015 gala: