We like to keep the House bustling with fun activities for our guests!
Our group volunteers play a major roll in making this happen. This is the perfect chance for you to get creative and bring your own interests and talents to help brighten someone\'s day. The following are just a few ways you can get involved.
Your group can host a family activity night which includes planning games/activities with our families. Please do not bring any children younger than 15. We have BINGO and lots of board games or you can bring a game of your choice (Pictionary, Taboo, etc.). Feel free to bring prizes for the winners and snacks.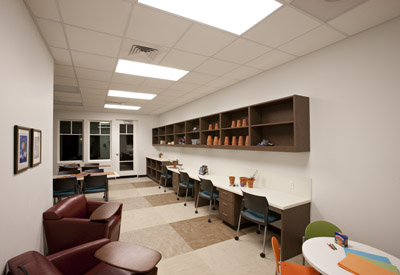 Plan a craft, bring all the supplies needed and facilitate the craft with our families. Examples of Crafts: Decorate pillow cases or t-shirts, painting pottery, making cards, scrapbooking, holiday crafts, etc.
Story time is always a hit with our families. We have a brand new library with A LOT of books. A small group could host a story time and read to our children.
Host a movie night – we have a brand new media room. Your group can bring the newest PG or G rated movie and show it in our media room. You can also bring popcorn to watch during the movie. Bottled water is the only beverage that can be served in the media room. You are more than welcome to donate the movie to the house after it is shown.
Music night! If your group is talented you can host a music night and perform for our families. Families love listening to music during dinner time!
Host a Spa night. The families that stay here are usually under a great amount of stress. Help relieve their stress by offering spa services such as hand massages, back massages, manicures, facials, etc.
Host an ice-cream social. Your group can bring ice-cream and all the fixins' and host a little social to get to know our families.