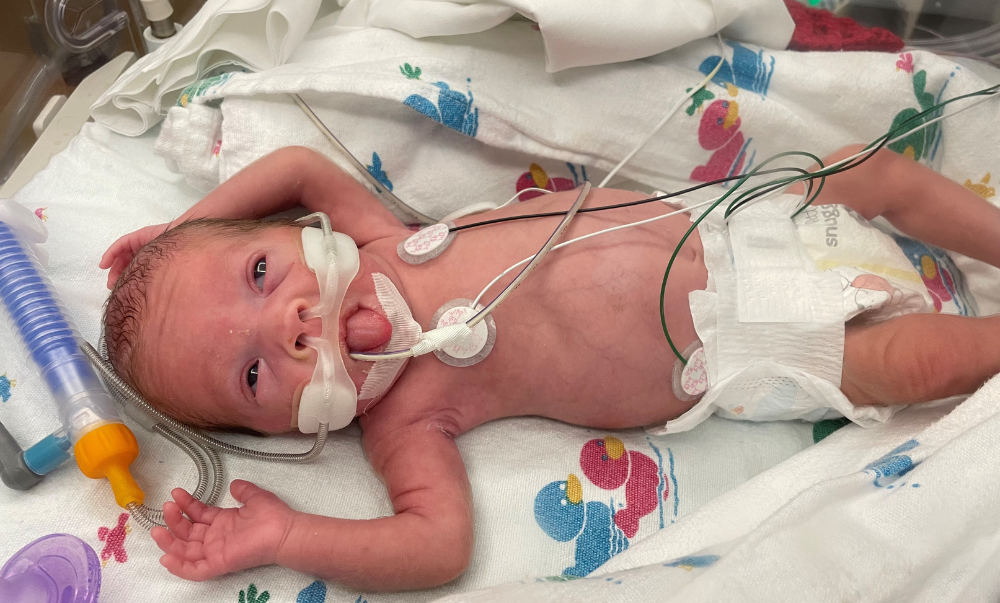 [NTXGD Story] Persephone Sapp
On July 12, 2022, Shannon woke up in the middle of the night with some uncomfortable cramps. After waiting it out for a few hours, she left her home in Hugo, Oklahoma to make the short, 30-minute drive to see her OBGYN in Paris, Texas. After being checked out by her medical team, she was cleared to return home to monitor her symptoms.
"When I was at the office, I wasn't having any contractions," Shannon begins. "So, I left to go back home. But on my way home, I got hit with a pain so hard it made me pull over."
Shannon made it back home safely, but since her pain had worsened in such a short period of time, her fiancé, Andres, was adamant about them going to the ER. It was then that their journey to the Ronald McDonald House of Dallas started.
"They gave me IVs at the hospital to slow down my contractions," Shannon explains. "It slowed down, but it didn't stop. So that day, they made the decision to Care Flite me to Dallas. And that very next day, I delivered."
Persephone Sapp was born at Medical City Dallas on July 14, 2022. She was classified as a "micro preemie," weighing only 2.02 pounds, and was immediately placed on a ventilator.
"It was definitely a lot. I wasn't expecting to be able to stay in Dallas with her, and I wasn't sure how I was going to be able to handle that," Shannon says. "I had been pregnant once before and miscarried at 12 weeks, so I was terrified. I didn't want to lose one moment with her since I wasn't sure how many moments I was going to have."
Shannon spent 10-12 hours a day in the room with Persephone, watching her and making sure she was okay. That first weekend, they were fortunate to be able to stay in the hospital after Shannon was discharged. After that, their social worker was able to secure a room for them at the Ronald McDonald House of Dallas (RMHD), where they checked in on July 18th.
For the next 95 days, Shannon and Andres stayed at RMHD in between visits to Persephone at the hospital. On October 22, 2022, one day before Persephone's original due date, they were cleared to head home.
"It was definitely a blessing to be able to have a place we could go to at the end of the day. We didn't have to stress about food, where we were going to sleep, taking a bath, or even having soap and laundry," Shannon shares. "All we had to do was focus on our daughter and make sure that she got to come home. [RMHD] made that possible and as stress-free as that stressful situation was."
Persephone is now 14 months old, and is "perfectly happy, healthy, and growing!"