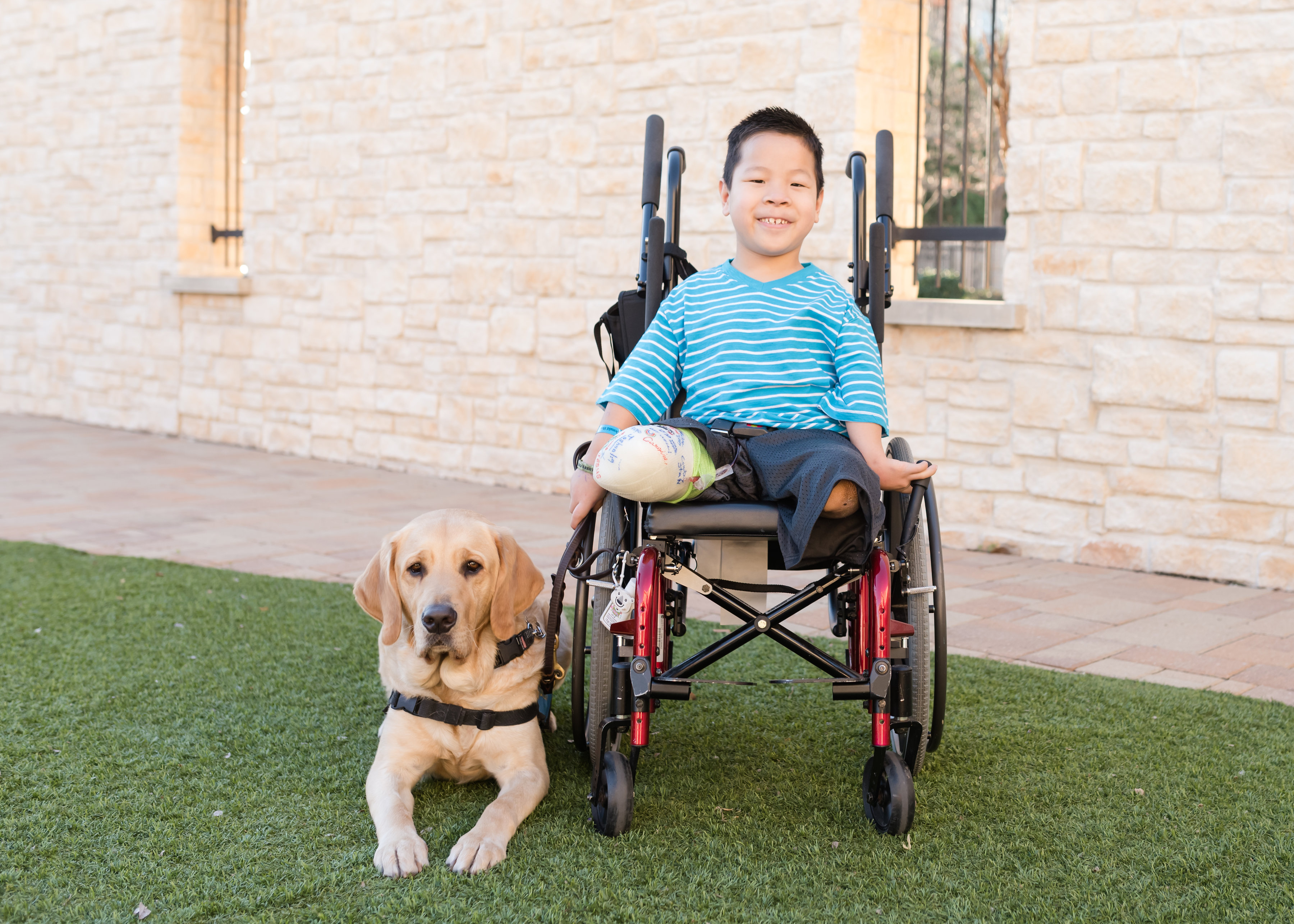 Robert's Big Step Forward
Robert Powell is one special kid. This little boy with a smile of gold has stolen the hearts of many while staying at Ronald McDonald House of Dallas (RMHD). Robert was raised in an orphanage in China until the age of 8. He was adopted in 2015 by the Powell family. Anyone who has met the Powell family most certainly knows that the joy, warmth and love Robert displays comes in large part from his parents, Art and Jen. The Powells have ten children, four biological and six adopted: Jeremiah- 28, Allie- 18, Mercy- 17, Caleb- 16, Zachary- 16, Robert- 9, Jacob – 9, Zoey- 8 and Bethany- 6. They lost a baby many years ago. The Powell family has stayed at Ronald McDonald House of Dallas multiple times throughout the past year. Robert has endured six surgeries over a three-month period. He was born with Arthrogryposis, meaning every joint in his body is affected by severe contractures; making matters worse, he had limited access to medical intervention in his first 8 years of life.
A year after adopting Robert, the Powell family was referred to Texas Scottish Rite Hospital for Children by specialists at their local children's hospital in their hometown of Little Rock, Arkansas. It became very clear early in the process that he was an excellent candidate for prosthesis. Robert had both of his legs amputated in January 2017. He persevered through multiple surgeries and difficult complications. In April of this year, he received his first set of prostheses and was able to walk into Ronald McDonald House of Dallas for the very first time. It is a moment his family will hold on to forever. "We will never forget the day our son begged his physical therapist to take his new legs back to the House to show his RMHD family how he could walk," says Jen Powell. "He was so determined. Sure enough… our boy walked from the entry into the lobby with a huge crowd of staff and volunteers cheering every step of victory."
Robert isn't the only Powell kid who has been impacted by Ronald McDonald House of Dallas. His oldest sister, Allie, is heading to school this year to major in Nursing and just found out she is a Wilma Potter Scholarship recipient. Mercy Powell, having spent time at home and Ronald McDonald House of Dallas with special needs children, wants to pursue a career in the same field when she graduates high school. Caleb, having attended many of Robert's therapies and medical appointments, is interested in a career in the medical field. Most recently, this May, Robert's younger sister Bethany,who was born with Williams Syndrome, stayed at Ronald McDonald House of Dallas while visiting specialists at Children's Medical Center of Dallas. The impact of Ronald McDonald House of Dallas is never far from Jen Powell's mind. "Being able to stay at the House has meant so much to our family. It holds a very special place in our hearts. It is a place of rest, comfort & joy. We have come to love the staff, volunteers and other families. It has eased financial burdens we could not have possibly shouldered. It has allowed us to stay connected with each of our children as they take turns to visit. The staff has cared for us, encouraged us and loved us in countless ways."
Robert Powell has overcome tremendous challenges both emotionally and physically in his short life. He is a strong and determined young man. He has touched the lives of so many at the House. Having been nurtured by such a special family, this precious boy, along with his siblings, will certainly have a bright future ahead.