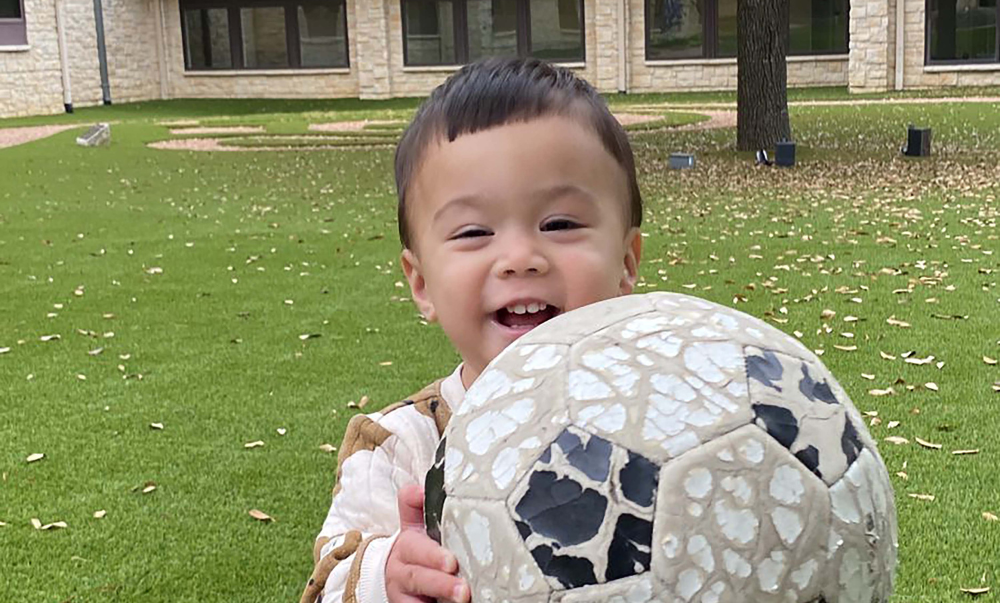 Samudra's Story
"It was more than I ever expected it to be," is how Dominique described walking into the Ronald McDonald House of Dallas for the very first time. She, her husband Vladimir, and their seven-month-old baby Samudra, had just arrived on a 29-hour flight from their home in Bali.
Last September, the family traveled from Indonesia to Dallas to receive specialized care at the Hypospadias Specialty Center, headquartered in The Colony, TX. At birth, Samudra was diagnosed with severe hypospadias, a relatively rare congenital condition where the opening of the urinary channel is on the underside of the organ. Dominique learned about the potential of Samudra's condition when she was about seven months along in her pregnancy, but was under the assumption that it wouldn't be a huge cause for concern.
"We were told it didn't necessarily mean he would need surgery," she explains. "So once he was born, we just kept monitoring it. But soon, he was getting bad infections, he wouldn't eat and wasn't gaining weight, and his bacteria levels were really high. We tried various solutions – changing the kind of diapers we used, keeping the area really clean – but the issues kept coming up."
Samudra's case was so severe and rare that the doctors in Asia were unsure how to treat it. After perusing the internet searching for answers, she came across an old YouTube video. In this video, a Dallas-area doctor specializing in hypospadias surgeries was sharing information in an effort to educate people around the world on this condition. The doctor's contact information was listed at the end of the video, so Dominique opened her email and started typing.
"I was worried because the video was five years old, but I still sent an email. And I kept sending them – until one day, he replied," Dominique says.
It was that interaction that spearheaded their first journey to Texas. They arrived at RMHD in September of 2022, and Samudra had his first surgery later that month. A couple of weeks later, the family traveled back to Indonesia, with plans to return in 2023 for his two remaining surgeries.
This March, Dominique and Vladimir returned to Dallas, but soon learned that Samudra's first surgery would need to be redone. That reoperative surgery happened on April 4th, but he will still need the remaining two surgeries in Texas, one in October 2023 and the final in April 2024 – all of which are being paid out of pocket.
"In Indonesia, you are not allowed to have any health insurance if your child has a medical condition he was born with, for example, hypospadias," Dominique explains. "Therefore, anything surgery-related to this condition, insurance doesn't cover."
"My schedule is really busy since I'm still working remotely as a school teacher back in Indonesia. [Indonesia] is 13 hours ahead, so I typically teach from 7 p.m. to 2 a.m. every day," she says. "It's a full day, but it's what I need to do for our son."
When she isn't working, she loves to play with Vladimir and Samudra in the courtyard and interact with other families. The House truly feels like a home for them – Samudra even had his first crawl and took his first steps here. The other families staying here have started to feel like an extension of their own family.
"We weren't expecting the support we've found here. The kind of connection we have here is going to last for a lifetime," Dominique begins. 'It's nice to stay here and be with other families, because we're all basically on the same boat. We're all learning new things and supporting one another, it's really beautiful. It is even more wonderful to be surrounded by such amazing moms. We are all so supportive of each other, it's very powerful."
Although they're truly thankful for the House and the friends they've met, they do miss their family and friends back in Indonesia. Tickets skyrocketed once COVID-19 regulations relaxed, so now it's too expensive for the family to travel back and forth, or for their family to come here.
The family will be staying at the House until Samudra has fully recovered from his final surgery next April, with a tentative departure date of May 2024. He has therapies and visits with his medical team in between surgeries, but Dominique is thankful they have a calm and relaxing place to stay.
"In the beginning, I didn't think it would be possible to stay for that long and we were worried about finding a place to stay in between each surgery," says Dominique. "Now that we're here, we wouldn't want to stay anywhere else. The staff really makes us feel at home."