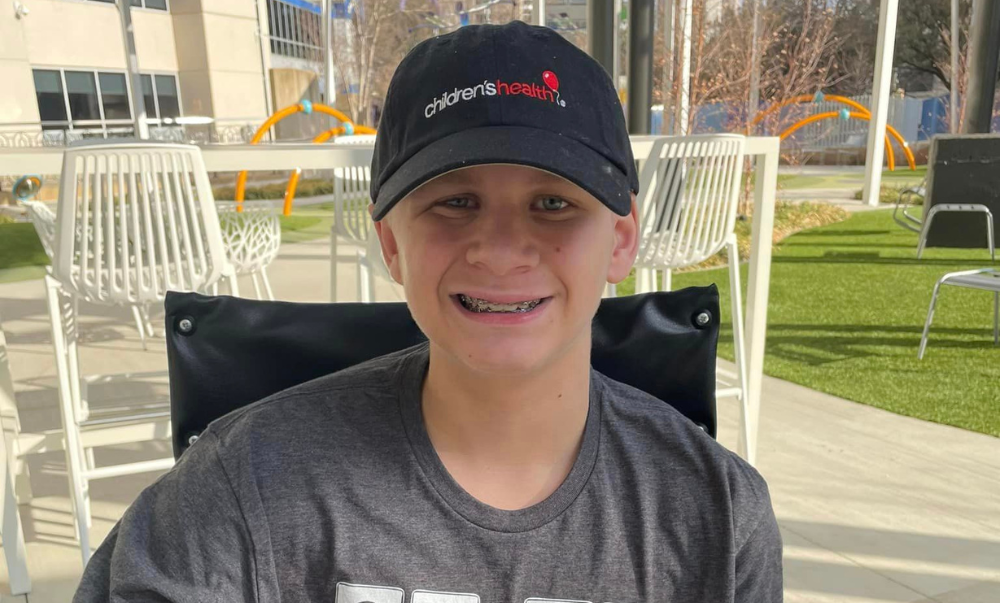 The Deornellis Family
Tony and Amy Deornellis were out doing their usual grocery shopping when their cell phone rang. On the other line were the friends of their 16-year-old son Dylan's girlfriend. The first question they asked the Deornellises was, "Is it typical for Dylan to have seizures?"
The Deornellises were confused. "No," they responded, their son had never suffered from seizures. Apart from some early medical issues when he was a baby, he was a perfectly healthy, normal teenager. But on Friday, January 27 at around 6:45 p.m., that changed. 
By the time Tony and Amy arrived at the hospital nearest their home in Pittsburg, Texas, the medical team there had already decided he would need to be careflighted to a hospital in Tyler. However, after the medical team in Tyler reviewed his CT scan, they immediately declined treatment and referred him to Children's Medical Center in Dallas. Shortly before midnight that very same day, Dylan arrived in Dallas, his parents following close behind. 
"Originally they were going to observe him overnight and discuss surgery options the next day," Amy begins. "But around 4:30 a.m. we were informed that Dylan's neurostatus had changed and his only chance of survival was to take him to surgery right now." 
This is when they learned the full extent of what happened to Dylan. In addition to his seizure, he had also suffered a right-side stroke – both of which were caused by a ruptured cerebral aneurysm. The doctor told the Deornellises, "This is the worst thing that could have happened to your son's brain."
During that first surgery, the doctors removed a portion of Dylan's skull, to allow his brain to swell. The prognosis was not comforting, as his survival depended on a variety of factors. With no end-date in sight, the Deornellises prepared themselves for a long stay in Dallas. Their social worker referred them to the Ronald McDonald House of Dallas (RMHD), where they checked in on Sunday, January 29. That first week, they spent all their time at the hospital, only coming to the House to shower and sleep. 
Since his probability of having more strokes was high, Dylan was kept in the ICU for monitoring and prevention. Miraculously, after just a few days, he began to make progress.
"He came off the ventilator on Tuesday the 31st," Amy says. "They initially told us after his surgery he would need to be on the ventilator for 10-14 days, but he was only on it for four. So he really has done well."
Once Dylan was off the ventilator, the Deornellises made the three-hour drive back home to Pittsburg to pack more clothes, collect Amy's work equipment, and pick up their 11-year-old daughter, Delaney, who had been staying with family friends. Their church held a special prayer and send-off for the family before they headed back to the House.
"Being [at RMHD] has allowed us to all be here together, which has been huge. We can still be a family, even though everything is upside down," Amy says.
Dylan has had an outpouring of support, both back home in Pittsburg and here at Children's. His older brother, sister-in-law, and niece came to visit him recently, as well as his girlfriend and basketball team. The Deornellises are grateful to their community for their unwavering support, and to RMHD for being a home-away-from-home. 
"This place has been amazing. Almost over-the-top and too much," Tony shares. "You never think you're going to need a place like this. You might hear about it somewhere, or have it in the back of your mind, but you never expect to be the one needing it."
"We'd have to consider spending the night at the hospital or going back home to Pittsburg every day," Amy continues. "Today is day 31 – there's no way we could have afforded a month's worth of hotels. This is a huge blessing."
After spending 14 days in the ICU, Dylan was transferred to the Neuro Floor on Friday, February 10. He had a successful surgery on February 17th to reattach the portion of the skull they removed during his first surgery, and on February 22nd, he moved to inpatient rehabilitation.
Dylan still has a long road ahead, including a lot of physical and occupational therapy. While the medical team is unable to give a concrete timeline on his discharge date, they have told the family they are "hopeful." 
"Dylan's neurosurgeon admitted to us that Dylan has done so much better than he originally expected him to do," Amy says. "He told us he believes Dylan will walk out of the hospital."
Those first few days after his stroke, Dylan couldn't use his left side at all. Since then, he has made countless strides towards recovery, and his family is thrilled with his progress. They share that, although he is still working to regain use of his left arm and leg, his smile is fully restored.