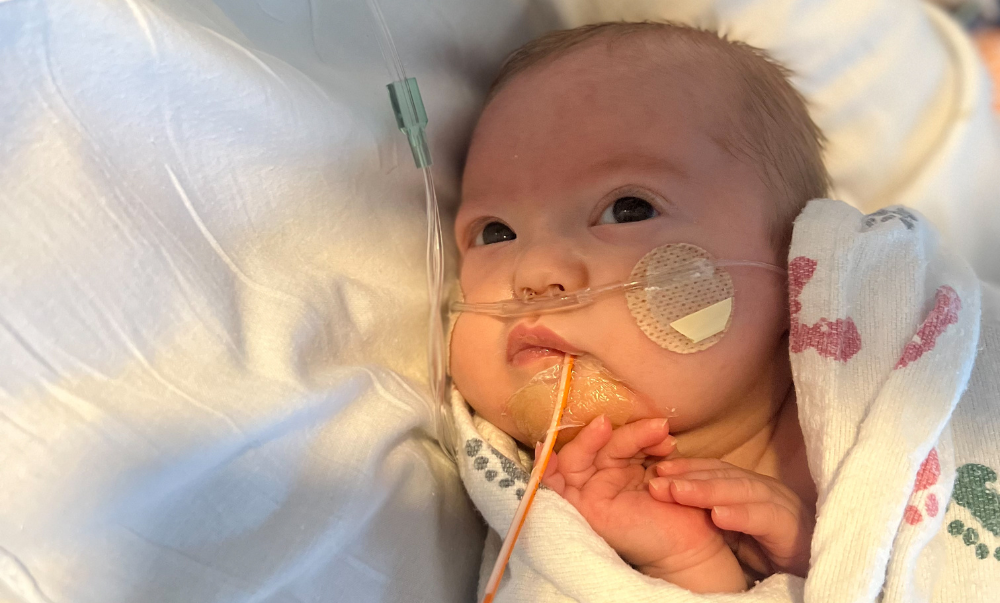 The Fosters
Thursday, September 1 started out just like any other day for Emily Foster. She was going about her daily routine when all of a sudden, she felt something. It appeared as though her water had broken, although a fairly small amount. But surely, at only six months into her pregnancy, that couldn't be right. For peace of mind, she and her husband, Anthony, decided to see the doctor, confident they were going to be sent back home. 
"When her water broke, we didn't know for sure that's what it was. So just to be cautious, we went to the hospital," Anthony explains. "Going to the hospital, I was very much thinking, 'Oh, they're going to tell us to go back home and take it easy'." 
Instead, Emily was immediately admitted into Christus Mother Frances Hospital in Tyler, Texas. She would stay there for the next few weeks while the team did everything they could to prolong her baby's arrival. But on September 23, 2022, Harrison Foster was born at just 27 weeks, weighing 2 pounds and 5 ounces.
For the next month, doctors would monitor Harrison's progress at the hospital. When it appeared he needed more medical attention than their team could give him, the decision was made to transfer him to Children's Medical Center in Dallas. Anthony accompanied baby Harrison on the CareFlight to Dallas, while Emily packed up their things, grabbed their 2-year-old daughter Josie, and made the almost 2-hour drive to Dallas from their home in Flint, Texas. 
"I got up here, not knowing anything… I just wanted to see Harrison," Emily says. "It was starting to get closer to night when I thought, 'Where are we going to stay?'"
A social worker began to talk to them about their options, including the Ronald McDonald House of Dallas. In just a matter of hours, they were able to secure a room. Their first night in Dallas, November 3rd, was also their first night in the House. 
"We're so thankful for that social worker. We knew from the beginning we should anticipate staying for a long time, so a hotel just wouldn't have been ideal for us," Emily says. 
The family has now been at RMHD for almost three months. They've celebrated birthdays, holidays and other important moments here, including what should have been Harrison's due date on December 21st. The Fosters are not sure when they're going to be cleared to leave, as Harrison's ability to breathe and eat is less than ideal. 
"His breathing was giving him a lot of issues. But also, there are complications with his nose. The feeding tube that would have normally gone through his nose, has gone through his throat, and that has really prevented him from learning how to eat the way they want," Anthony explains. 
The Fosters are working through their potential options with Harrison's medical team, including inserting a G-tube for feeding. However, there is still no concrete timeline for Harrison's discharge. Emily and Anthony have been told it could be as early as one week… and as late as Easter. Either way, they're thankful for the ability to stay together during this journey. 
"We're genuinely very grateful for the opportunity to be here. I'm sure a lot of people say this, but I really have no idea what we would do if we didn't have this. I honestly think we'd just have to go back home to Tyler every day," Anthony says.
Emily adds, "Whenever we didn't know [RMHD] was an option, we were thinking our parents would have to keep Josie for a couple months through the duration of our stay in Dallas. We genuinely didn't think we'd all get to be together, so it's really cool that we didn't have to split up." 
           
Left picture: Emily Foster and Josie Foster
Right picture: Anthony Foster and Josie Foster