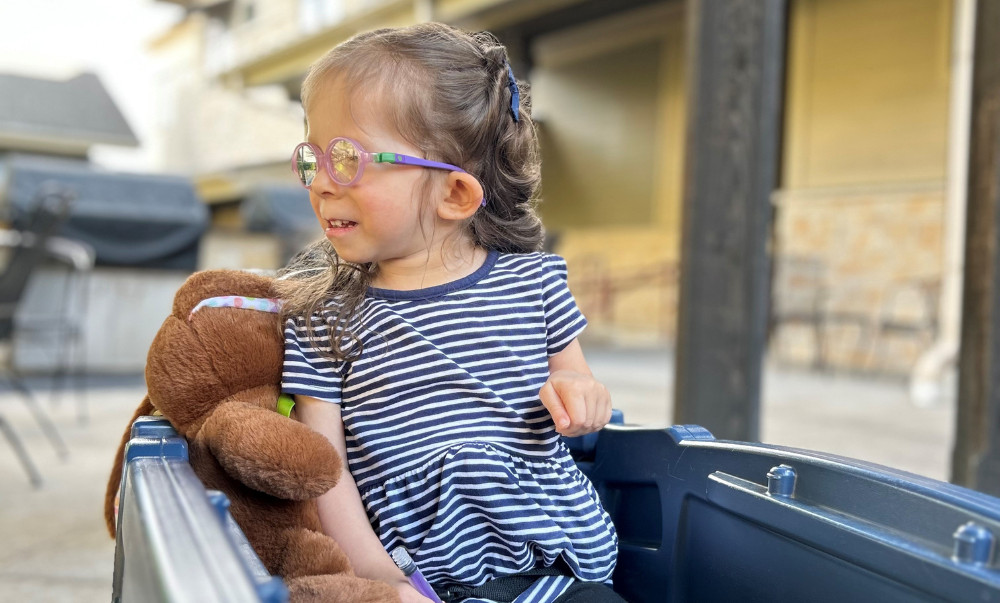 The Garcia Family
Last year was monumental for the Garcia family. After months of searching for the answer to their, then 18-month-old, daughter Elizabeth's condition, they finally received a diagnosis. In April of 2022, they learned Elizabeth had cardiofaciocutaneous, also known as CFC syndrome – something she shares with only 200 to 300 other people in the world.
Elizabeth's mom, Alexandria (Allie), had a normal pregnancy with her first child. However, Elizabeth began experiencing various issues as soon as she was born, starting with a short stay in the NICU. As she got older, she stopped growing and developing, causing Allie and her husband, Diego, to seek medical expertise.
"We got through all of the specialties before deciding to do genetic testing to see if we could find some answers. We learned of her condition through those genetic tests," Allie says. "Once we saw CFC syndrome come up, it explained all of the things going on."
Although CFC syndrome is her primary diagnosis, Elizabeth also suffers from gastrointestinal problems, developmental delays, growth-hormone deficiencies, autism, and more. Elizabeth, who is now two-and-a-half-years-old, can't put weight on her feet, making her unable to walk or crawl.
"Right now, she has the gross-motor-skills development of an eight-month-old. But we're working with her to get her to walk. She has a little walker that we put her in to hold her up to try to wake up her muscles. She gets about 18 hours of therapy a week… it's basically a full-time job for her," Allie explains. 
While the majority of Elizabeth's care team is located at Texas Children's Hospital – Houston, they have started traveling from their hometown of Missouri City, Texas to seek specialized care in Dallas.
"One of the ways CFC manifests itself is through eating problems," Allie begins. "So she has a feeding tube, which she is fully dependent on. She never knew how to suck, so she couldn't take from a bottle, and she doesn't use her lips too well, so she doesn't know how to take food off of a spoon."
Elizabeth also has severe sensory sensitivity, so anything in her mouth causes her a lot of anxiety. These are all things she is working to address in the intensive feeding program at Integrated Therapy at Children's Medical Center Dallas, formerly known as Our Children's House. 
Their first trip to Dallas was last September, when Elizabeth officially enrolled in the feeding program, and they were referred to the House by their team at Children's. Since then, Allie, Diego, Elizabeth, and their new baby boy, Josiah, have stayed at the House two more times, most recently in April of 2023.
"I was very impressed with the House. I had a family member who stayed at a House on the East Coast, so I kind of knew what it was, but I didn't understand the full extent of it until we arrived here," Allie says. 
The feeding program and therapy have really helped Elizabeth progress, and she "is now able to eat off a spoon, albeit in a bit of an uncoordinated way." The Garcias will still need to travel to Dallas for one-month stays, twice a year, until Elizabeth is off of the feeding tube. Although they are unsure when that will be, they are grateful for RMHD and the services provided.
"We really appreciate all of the resources [RMHD has] available for the families. I mean, just having a free place to stay is huge, because being out of town for a month is expensive," Allie says. "I appreciate all of the meals that are provided because it takes a huge burden off the families. We don't have to worry about cooking or figuring that stuff out after days packed full of appointments."
A typical day at the House for the Garcias consists of going to the hospital for morning therapy before coming back to RMHD for lunch. Then, Allie will work with Elizabeth on the therapies that have been provided by her medical team back in Houston. This includes things like gait training, food trials, and speech training since Elizabeth can only say a few words. If it's nice out, they'll end the day with one of Elizabeth's favorite things – a wagon ride through the courtyard.
"She loves wagon rides," Allie says. "As soon as we get into the courtyard, she'll chant 'Go! Go! Go!"