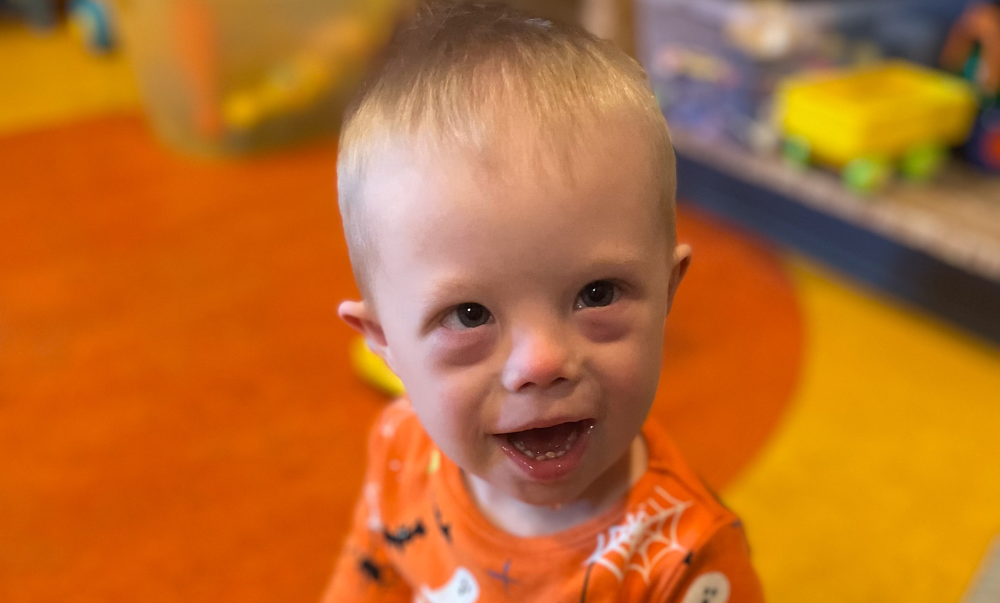 The Thorpe Family
Nothing could have prepared Marissa Thorpe for the journey motherhood was about to take her on. What started as excitement when the Thorpe's learned they were pregnant with their first child, quickly turned to anxiety during Marissa's 12-week check in.
"About 12 weeks along, they did a blood test. This is when we found out Logan was going to have Down Syndrome," Marissa says.
It was then that the testing began, since children with Down Syndrome have an increased risk of having other health conditions. At 20 weeks, they did a Fetal Echocardiogram Test to check his heart and found that Logan had a "balanced" Atrioventricular Septal Defect (AVSD).
"They gave us all of these horrible diagnoses before he was born. They even gave us the option to terminate the pregnancy," Marissa continues. "From week 12 to 26 of my pregnancy, things were really scary."
Marissa and her husband, Layton, decided to continue with the pregnancy, with Logan expected to make his grand entrance in March of 2020. But on Tuesday, February 11 – Marissa's 28th birthday to be exact – Logan was born at a hospital in Odessa, about 40 minutes from their home in Andrews, Texas.
"My medical team wanted me to give birth in Dallas, since we had been coming up regularly for specialty testing at Children's," Marissa explains. "But on that day the winter weather was really bad, so we couldn't get on a plane to come to Dallas."
After he was born, Logan stayed in the hospital's NICU for 79 days until he was discharged in May. Although Logan was growing really well, he would still need a major heart surgery when he was six months old to address his "balanced" AVSD. So in August, the family packed up their things and made the 5-hour journey to RMHD.
On the day of his surgery, everything was going according to plan. It wasn't until Logan went back to begin his preoperative echocardiogram, that the medical team learned what was originally diagnosed as a "balanced" AVSD was actually "unbalanced." According to the American Heart Association Journals, an unbalanced AV canal defect is much more rare, "accounting for only 10% of patients with AVSD." The Thorpe's realized what they thought was going to be a single surgery leading to a full heart repair, was now going to involve multiple surgeries and a longer stay in Dallas.
"The first time at RMHD, we stayed for 69 days to address his health issues and establish care," Marissa begins. "We then made the decision to sell our house and move to Dallas, since we knew we would be here for a while."
Marissa's mom and dad graciously loaned them their camper, which they set up nearby in Mansfield. Logan had monthly appointments at Children's through the rest of 2020 and beginning of 2021, until they hit a roadblock in September.
"He needed another surgery, but we were told it was too risky," Marissa says. "We went for a second opinion and found a hospital that agreed to do it. So in September, we went to Boston for a full ventricular repair."
The surgery was successful, and after 11 days in Boston the family was cleared to return to Mansfield to monitor Logan's condition. Since he was progressing well, Logan was approved to have a pacemaker inserted in March of 2022 – but that came with its own set of challenges.
"After eight days, he developed a wound infection and got sepsis. So they need to remove his pacemaker," Marissa explains. "Since Mansfield was far enough away, we were able to stay at RMHD during this time. He was intubated for 12 days and had several washout surgeries to clear the infection."
In addition to the 12 days intubated, he was in the hospital for three more weeks, and then on antibiotics for eight more. Logan needed time for his body to heal before they could reinsert the pacemaker – which was done in June of last year. At that point, Logan was already in heart failure.
The reinsertion of the pacemaker helped Logan's condition immensely, and they were told he was finally healthy enough to head home. So Marissa, Logan, and Layton packed up their things in Mansfield and moved back home to live with her parents. Since then, the Thorpe's have regularly traveled to Dallas for Logan's appointments. Each time, they've been able to stay at the RMHD – something they are very thankful for.
"The first time we stayed [at RMHD] was during Covid. So while we were thankful to have a place to stay, it was very isolating. Because of Covid, everyone really kept to themselves," Marissa explains. "The more we come back, our experience just keeps getting better and better. It's nice now that we have more people to talk to – not just about your kid, but just about how your day is going."
While this is not how Marissa and Layton initially thought their journey as parents would go, they are continually amazed with how strong and happy Logan, now three-years-old, is.
"It's been a wild three years, but we're moving forward. He is graduating out of the heart failure program very soon. Our appointments are getting fewer and fewer and we're focusing more on regular life," Marissa says.
She continues, "Logan does things on Logan's time. That was the hardest lesson to learn. I'm a very type-A person and I like to have plans, but you can't have plans with kids. Especially not with Logan. He really has taught me a lot of patience. I originally thought, 'cool, we're going to go to Dallas, we're going to get fixed, and then we're going to go home'. But one surgery turned into a lot of surgeries, which is okay. Having kids changes your perspective on things. A lot of people learn that later in life, so I'm glad I learned it now."